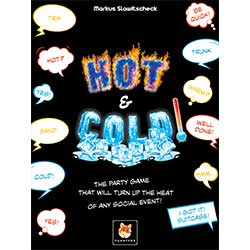 The party game that will turn up the heat of any social event!
In Hot & Cold you will be making your teammate guess your temperature by giving them a clue based on your shared secret word!
Will they understand that your clue is very close (hot), similar (warm) or very different (cold) to your secret word?
Be quick and sharp, because your opponents will do whatever it takes to score points!
Give a clue more or less related to your secret word to make your teammate guess Hot, Warm or Cold!
Confirm as many Temperature cards as possible in a limited amount of time.
Watch out for your opponents who will try to steal your Cold cards and your secret word!
Score the most points to win the game!