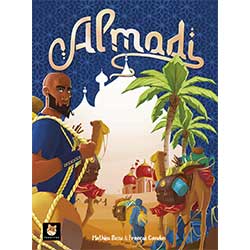 Mathieu Bossu & François Gandon
By the end of the 1001st night, the sultan Shahryar wishes to build the new realm of Almadi to honor the intelligence and wisdom of his wife Sheherazade. As the sultan's advisor, you are the architect of this great work. Design a thriving territory with sumptuous palaces, fresh oases, opulent markets and majestic caravans. Skillfully arrange the landscapes and use their effects to turn your work into a great success!
Strategically choose and place the landscapes in your realm.
Activate their effects to gain rubies, mosaics and goods, move landscapes with the genie and complete objectives.
Recruit the iconic characters of Arabian Nights to help you !
Create the most thriving realm to win the game !